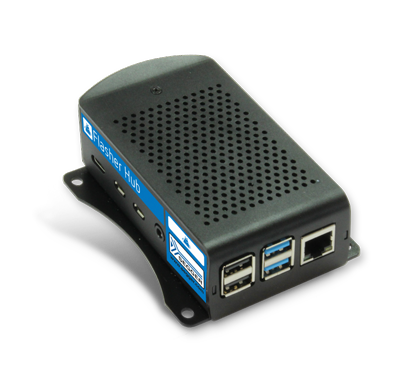 Flasher Hub - High-Volume Gang Programming
The Flasher Hub controls multiple Flasher Compacts so that they program simultaneously. Up to 24 Flashers can be connected to create a single, powerful gang programmer for efficient high-speed parallel programming.
In-System Programmer (ISP)
Scalable solution with up to 24 individual parallel programming channels each with their own programming circuit memory
Built-in web & FTP server for easy setup
Includes Flasher software package
Flasher Hub—Gang Control Module for Parallel Programming
SEGGER's Flasher Hub controls up to 24 Flashers serving as individual channels for parallel, high-speed gang-programming. Each channel can be configured to program a different device with a different firmware image.
The Flasher Hub is setup just once per channel configuration using SEGGER's Flasher software package. The software depends on the type of flash chip being programmed. The Hub can receive commands and send results via TELNET "stand-alone", no desktop PC necessary.
The combination of a single Flasher Hub and multiple Flasher Compacts is the perfect solution for high-volume mass production.
Universal Target Support
The Flasher Hub supports all flash devices and programming interfaces supported by the Flasher to which it is connected. By using Flasher Compact as modules, the Flasher Hub takes advantage of the extensive list of supported devices and target interfaces, plus the ultra-fast programming speed and reliability, of these Almost-Anything-Programmers.
Gang Programming
The Flasher Hub controls multiple Flashers. Each Flasher can be configured individually to program different targets with different target firmware. Whether it's the number of channels, type of flash device, firmware image, programming interface or command interface, the Flasher Hub can manage them all.
In-System Programming for Complex Manufacturing Lines
The Flasher Hub supports programming unique serial numbers and patch data. It also allows updating and monitoring from a nearby production control office. This means the in-system programming process is closely connected to testing facilities, such as ATE (Automatic Test Equipment) and similar devices. In practice, this means:
Fast & easy data transfer from development to production
Easy monitoring & updating from a nearby location
In-system programming processes in mass production also come with a ready-to-use UART communication channel, handshake lines and TELNET interface. These can be used to control its operation. Additionally, built-in web/FTP servers allow updates and monitoring.
Specifications
Power supply
USB C-powered, max. 3.0A
USB Flasher interface
USB 3.0, USB 2.0
Host interfaces
FTP, TELNET
Operating temperature
+ 0 °C ... + 50 °C
Storage temperature
- 20 °C ... + 65 °C
Relative humidity (non-condensing)

< 90% rH

Size (without cables)
60mm x 32mm x 95mm (without mounting brackets)
Weight (without cables)
132g