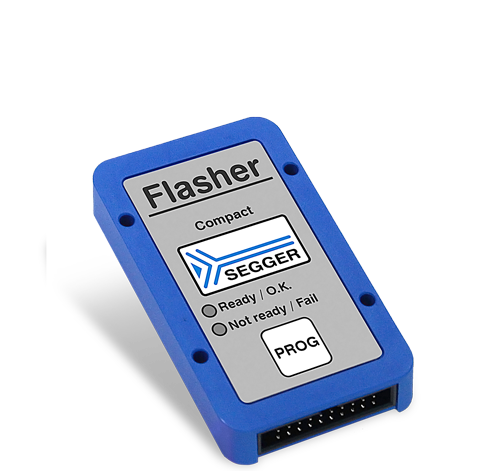 Flasher Compact is the compact twin to the Flasher PRO.
While Flasher Compact can be used stand alone, it is primarily designed for installation into production rigs or automated test equipment (ATE) where production space is limited.
Compact universal stand-alone programmer
Holes for mounting make target side assembly easy
Includes the Flasher software package
Includes the license to program all supported devices
Flasher Compact—The Space-Efficient Programmer
Flasher Compact is an in-circuit flash programming tool, designed to support the programming of microcontrollers with on-chip and external flash memory. Users control it in stand alone mode without the need of a PC program. Thanks to its compact nature and the mounting holes, integration into size-limited production setups is easier. Powered by USB, this stand-alone flash programmer has 128 MB of internal memory for storing firmware images and programming configurations. The built-in web server can be used to configure or setup the Flasher.
Flasher comes with the setup and control software for Windows, Linux and macOS. Software and firmware updates are included.
Similarly, all supported devices can be used without additional cost. Support for devices added in the future is also included.

No additional licenses required.
No hidden costs.
No future costs.
Universal Target Support
The Flasher Compact can program the internal and external memory of an MCU or SOC as well as program a (Q)SPI memory chip to which it is directly connected. It supports a variety of interfaces and so can "speak" to almost any target. It can operate in either stand-alone or PC-based programming mode.
Compact Housing
The Flasher Compact fits a powerful flexible universal programming tool into in a slim and light housing. Its space-efficient size and holes for mounting allows for easy integration into production rigs or automated test equipment (ATE).
Parallel Programming
Using the Flasher Hub (soon to be released), multiple Flasher Compacts can gang-up to program up to 64 targets at once. The Flasher Compact's ultra-fast programming speed makes it ideally suited for high-volume mass production.
Flashing & Coding in High-Volume Mass Production
Like many within SEGGER's Flasher family, the Flasher Compact is capable of programming multiple devices at once. These devices can be equal, or part of a multi-device system. Moreover, several Flasher Compact devices can be stacked on top of each other. That way, more than one microcontroller can be programmed at once.
Increased programming capacity
High throughput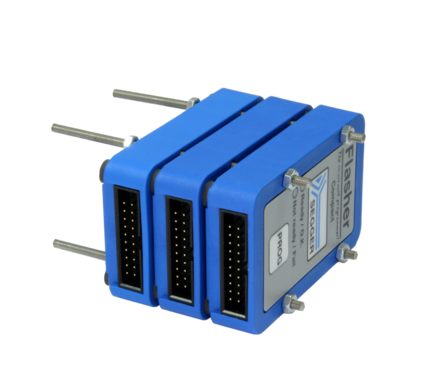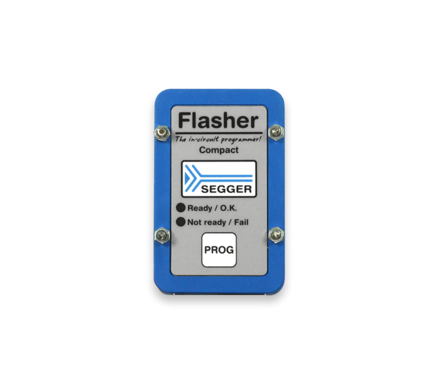 Programming in Size-Limited Production Setups
The Flasher Compact can be placed very close to the device being programmed. It can even be attached directly to the programming fixture, reducing the need for additional space. Processes for serial in-target programming can thus be transferred directly to assembly areas.
Reduced cable lengths for higher programming speed
Fits into space-constraint setups such as ATEs
Specifications
Power supply
USB powered, maximum 130mA (idle)
USB host interface
USB 2.0 (Hi-Speed); Micro USB
Target interface
20-pin (14-pin adapter available)
Supported target interfaces
SPI, QSPI, 8051 C2, cJTAG, FINE, ICSP, IIC, ISP, JTAG, PDI, SPD, SWD, SWIM, UART, UPDI
Max. target cable length
Recommended (delivered): 20cm (8")
Max. 2m (6.5") allowed but might reduce max. target interface speed
Serial transfer rate between Flasher Compact and target

Depending on target interface; JTAG/SWD: 50MHz

Supported target voltage
1.2 - 5V
Current drawn from target voltage sense pin (VTRef)
< 25µA
Target supply voltage
5V
Target supply current
Max. 400mA
Operating temperature
+ 5 °C ... + 60 °C
Storage temperature
- 20 °C ... + 65 °C
Relative humidity (non-condensing)
< 90% rH
Size (without cables)
70mm x 45mm x 18mm
Weight (without cables)
40g
Supported OS
Microsoft Windows (x86/x64), Linux (x86/x64/ARM), macOS (x86/Apple M1)
Q: What is the difference between Flasher Compact and Flasher PRO?
A: Both the Compact and the PRO are universal in-circuit flash programming tools with the exact same speed and reliability. They are functionally identical and support the same devices, with the PRO having added connectivity.