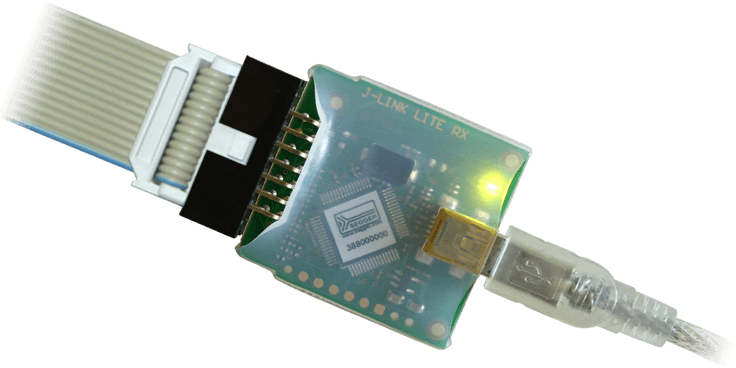 Debug probe for Renesas RX cores. J-Link Lite RX is a specific OEM-version of SEGGER J-Link Lite which is designed to be used with Renesas RX600 series MCUs.
Very small form factor
Fully software compatible with J-Link
Supported MCUs: Renesas RX600 series
JTAG clock up to 4 MHz
Flash download into supported MCUs
Standard .1" 14-pin JTAG connector (compatible with J-Link RX Adapter)
3.3V target interface voltage (5V tolerant)
J-Link Lite RX is a specific OEM-version of SEGGER J-Link Lite which is designed to be used with Renesas RX600 series MCUs. If you are selling evaluation-boards, J-Link Lite RX is an inexpensive debug probe solution for you. Your customer receives a widely acknowledged JTAG debug probe which allows him to start right away with his development.
J-Link Lite RX is fully compatible with Renesas E1 emulator and works with Renesas HEW and IAR Embedded Workbench for RX (EWRX).
J-Link Lite RX uses the same software package for Renesas RX as the regular J-Link. For more detailed information about the J-Link RX software package and how to install it, please refer to J-Link Renesas RX support.
If you are interested in J-Link Lite, please contact info@segger.com.
J-Link LITE RX supports all RX-CPUs with RX600 core and JTAG interface. The following devices / device groups are known to be compatible:
RX610 Group via JTAG
RX621 Group via JTAG
RX62N Group via JTAG
RX62T Group via JTAG
RX630 Group via JTAG
RX631 Group via JTAG
RX63N Group via JTAG
RX63T Group via JTAG
If your device is not listed here, please do not hesitate to get in touch with us.
J-Link LITE RX Specifications
Specification
Value
Supported OS
Microsoft Windows 2000
Microsoft Windows XP
Microsoft Windows XP x64
Microsoft Windows 2003
Microsoft Windows 2003 x64
Microsoft Windows Vista
Microsoft Windows Vista x64
Microsoft Windows 7
Microsoft Windows 7 x64
Microsoft Windows 8
Microsoft Windows 8 x64
Microsoft Windows 10
Microsoft Windows 10 x64
Linux
macOS 10.5 and higher
Electromagnetic compatibility (EMC)
EN 55022, EN 55024
Operating temperature
+5°C ... +60°C
Storage temperature
-20°C ... +65 °C
Relative humidity (non-condensing)
Max. 90% rH
Size (without cables)
44mm x 34mm x 12mm
Weight (without cables)
9g
Mechanical
USB interface
USB 2.0
Target interface
JTAG 14-pin
JTAG/SWD Interface, Electrical
Power supply
USB powered Max. 50mA + Target Supply current.
Target interface voltage (VIF)
3.3V
LOW level input voltage (VIL)
Max. 40% of VIF
HIGH level input voltage (VIH)
Min. 60% of VIF
JTAG/SWD Interface, Timing
Data input rise time (Trdi)
Max. 20ns
Data input fall time (Tfdi)
Max. 20ns
Data output rise time (Trdo)
Max. 10ns
Data output fall time (Tfdo)
Max. 10ns
Clock rise time (Trc)
Max. 10ns
Clock fall time (Tfc)
Max. 10ns
J-Link Lite CortexM is only delivered and supported as part of a starter kit, which includes an evaluation board. It is not sold separately. It may only be used with the evaluation board it came with. Support is given via the eval board manufacturer and via SEGGER Forum.