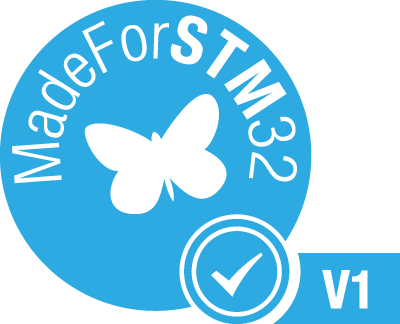 Proven quality for STM32-based applications.
MadeForSTM32 is a new quality label delivered by ST and is granted after an extended evaluation process. It helps engineers identify software solutions with the highest level of integration and quality for the STM32 microcontrollers' ecosystem.
embOS is MadeForSTM32 certified!
embOS was one of the first solutions to receive the MadeForSTM32 v1 label after opting to have both its development process and the embOS support network evaluated by ST. An additional, extensive hands-on evaluation of the software then completed this advanced collaboration of SEGGER and ST. As a result, the official I-CUBE-EMBOS expansion for STM32CubeMX may now be used to generate ready-to-go embOS projects for use with ST's devices and various IDEs.
How to use the I-CUBE embOS package
Download and unzip the package to a destination of your choice.
Consult the release notes for included software, version changes and required toolchains. Sample projects are contained in the folder Projects. embOS itself is contained in the Middlewares → Third_Party → embOS directory, while embOSView is located at Utilities → PC-Software → embOSView. Drivers contains code by ST, e.g. CMSIS files and HAL drivers.
There are 3 different projects available at Projects → STM32F746G-DISCO → Application → embOS:
embOS_Blinky is a basic sample demonstrating multi-tasking with two tasks, each toggling one LED.
embOS_Mutex demonstrates the usage of embOS mutexes for exclusive access to resources.
embOS_SWTimer demonstrates the usage of embOS software timers.
Each of these projects contains a ReadMe.txt with information about available configurations with different IDEs, hardware requirements, instructions on how to use J-Link instead of ST-Link as well as information about how to set up embOSView and SystemView for the specified device.
To perform modifications to the sample project, open the .ioc file in the root directory of a project using the STM32CubeMX application.
The generated projects for the IDEs can be found in their corresponding folders at the root directory of the sample project. The location for SystemWorkbench for STM32 and the embOS_Blinky sample project can for instance be opened at: Application → embOS → embOS_Blinky → SW4STM32 → embOS_Blinky. The code can then be compiled and downloaded to your target hardware.